Tenderen met een 3d model.
Tendering based on a 3d model.
Het ontwerp voor het treinstation en gemeentekantoor was een prijsvraag waar ik als architect bij Mecanoo aan gewerkt heb. Na het winnen van de competitie heb ik het ontwerpteam regelmatig bijgestaan met de vormgeving van het treinstation. Een van de eerste opdrachten die ik na het oprichten van MAUC mocht doen was het vormgeven van het 3d engineeringsmodel van het treinstation voor Mecanoo. Het model was onderdeel van de tenderdocumenten en was bedoeld om van te bouwen. De doorsnedetekeningen waren ter informatie, voor maatvoering werd naar dit 3d doorverwezen. Deze aanpak is ook gebruikt voor de aanbesteding van met name de vorm van de Wei-Wu-Ying Centre for the Performing Arts in Taiwan, ook een Mecanoo project waar ik destijds aan werkte. Een 3d model is onderdeel van de tenderdocumentatie en heeft de status van contractdoument. Alle dimensioneringen die betrekking hebben op de vorm dienen van dit model afgeleid te worden. Doorsneden en plattegronden zijn wat de vorm betreft ter informatie. Soms refereren we naar dit proces als een file to factory proces, een term van Kas Oosterhuis.
The design for the train station and municipal offices in Delft was a design competition I worked on as an employee of Mecanoo. After winning it I was involved in the project as the 3d expert, working on the design of the shape of the train station. Shortly after founding MAUC I was commissioned by Mecanoo to create the 3d model of the ceiling that was bundled with the tender document. This approach was also used for the Wei-Wu-Ying Centre for the Performing Arts, a project I was also working on while at Mecanoo, a 3d model is inserted in the tender documents and referred to as a contract document. It also describe certain standards regarding to materials and colors used and deviations to the shapes allowed. No drawings are made that contain any dimensions that are used for fabrication. Sometimes we refer to this as a file-to-factory process, a term coined by Kas Oosterhuis.
Baffles en gips.
Baffles and gypsum.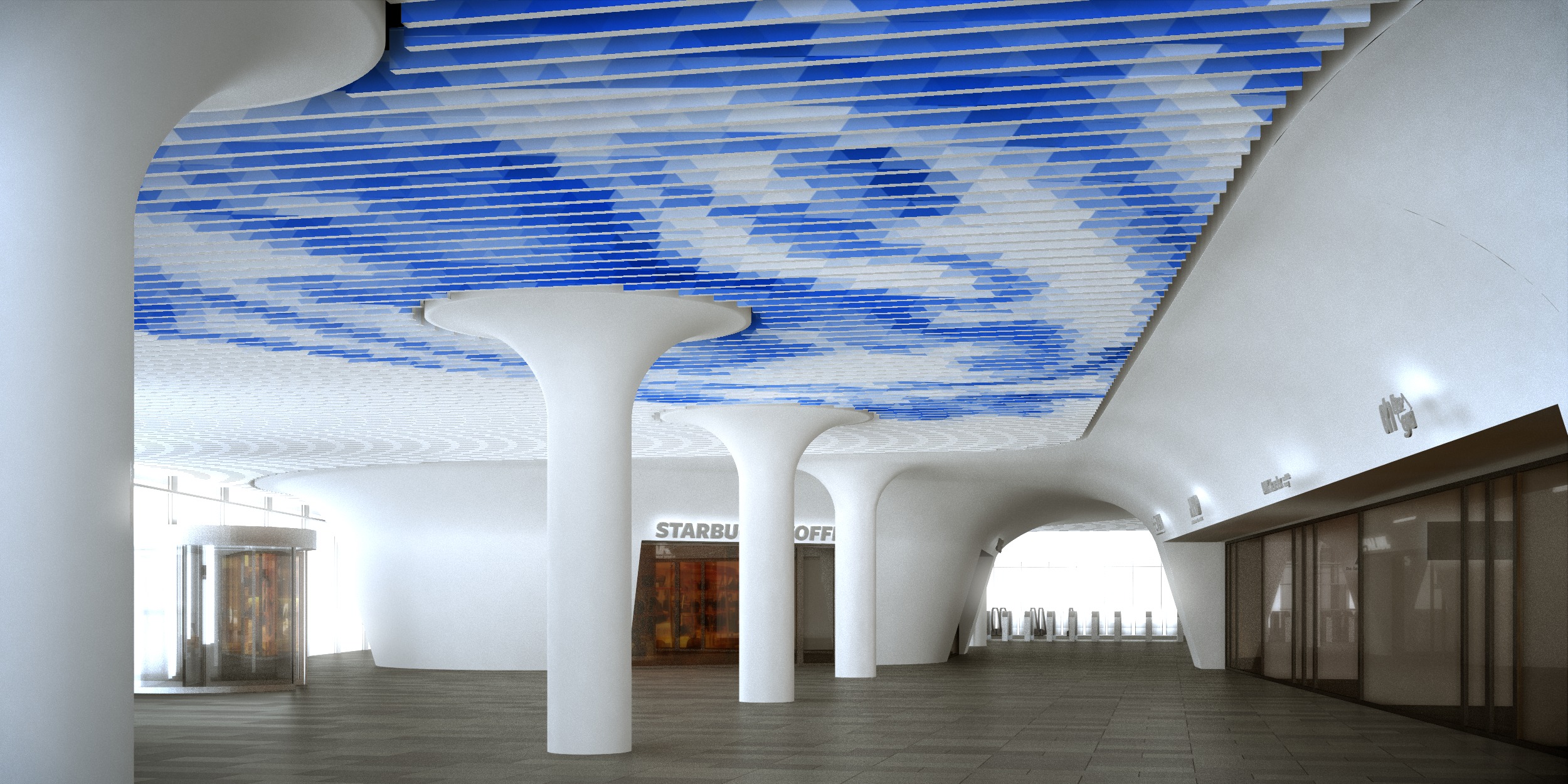 Preliminary render of a study of baffle density and print.
Rendering van een voorlopige studie naar print en baffle afmetingen.
Preliminary render of a study of baffle density and print.
Rendering van een voorlopige studie naar print en baffle afmetingen.
Tijdens de aanbesteding bleek dat bouwsnelheid van groot belang was. Vooral boven de toegang naar de ondergrondse treinen moest het plafond snel aangebracht kunnen worden om de doorgang naar de treinen zo min mogelijk te belemmeren. Dit deed Mecanoo besluiten om de uitvoering van het plafond in twee materialen te splitsen, gips en baffles. Voor de baffles heb ik een aantal studies verricht naar baffle afmeting en print.
During the tendering phase it became clear that speed was a concern. The trains arrived underground and impeding entrance and egress with scaffolding and such needed to be kept to a minimum. This led to Mecanoo deciding to use more than one method of creating the ceiling, a combination of baffles with gypsum was chosen. For the baffles I conducted a number of studies to determine the optimal dimensions of height, thickness and distance between the baffles.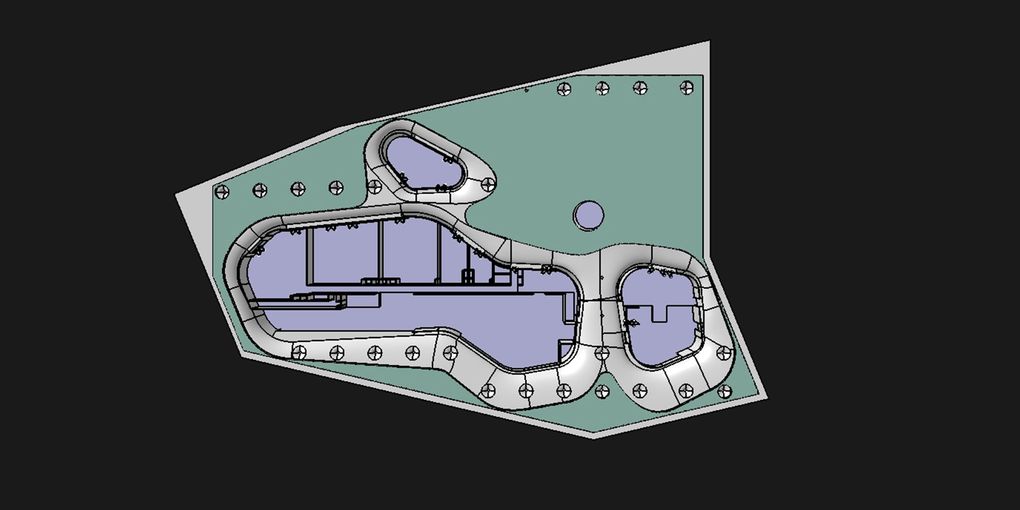 3d engineering model with the baffle-gypsum seperation
3d engineeringmodel met de verdeling gips en baffles.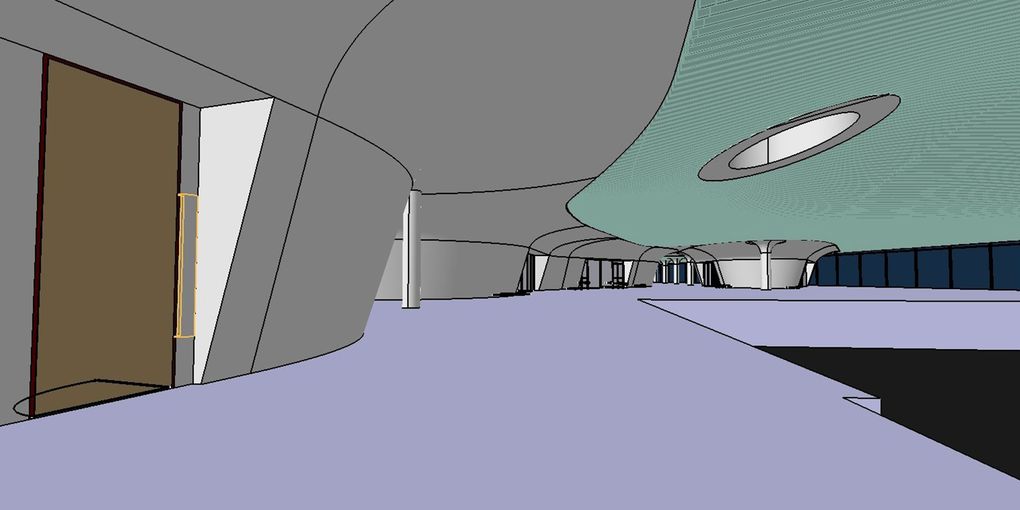 Interior view of the 3d engineering model with the baffle-gypsum seperation
Interieurbeeld van het 3d engineeringmodel met de verdeling gips en baffles.
File to Factory, scripted tekeningen.
Integra b.v. is de fabrikant van de baffles en benaderde mij voor de engineering voor de productie van de baffles, in totaal kwam dit neer op ca 440 tekeningen. In totaal zijn er 1932 baffles, de meeste met afwijkende afmetingen en ter plaatse van de koepel heeft elke baffle een unieke kromming. Het handmatig tekenen van deze hoeveelheid onderdelen was onverstandig, ten eerste is het niet economisch en ten tweede is het een belangrijk punt waar dingen mis kunnen gaan, waar bouwfouten gecreëerd worden. Het was van het begin al duidelijk dat handmatig tekenen niet aan de orde is en gezien mijn ervaring met automatisering lag een geautomatiseerde aanpak voor de hand. Ik heb een aantal scripts geschreven voor dit specifieke plafond dat voor elke rij van baffles een doorsnede genereert en elke baffle dimensioneert naar de dichtstbijzijnde gridlijn. Een ander script zorgde ervoor dat alle 354 doorsneden in een keer naar een pdf geprint kon worden. Hieronder is het filmpje te zien dat ik maakte door alle doorsneden achter elkaar te zetten.
File to factory, scripted drawings.
Integra b.v. is the manufacturer of the baffles and approached me to engineer the production. In total there are 1932 baffles, most of which are unique in length and in the dome every baffle is unique as a result of the curvature. All baffles where drawn up in a total of approximately 440 drawings by grouping them per row. Creating these drawings by hand is ill-advised, it is not very economic, but mostly because when a person makes a drawing, mistakes are made and adding control adds to the cost. It was clear from the beginning that cad-drawing the baffles was not on the table and given my aptitude for scripted design solution, a number of scripts where made that created a section at every row and codified and dimensioned every baffle. Another script made sure all drawings where labeled and printed to a single 354 page pdf. Below is a small animation i made of all drawings by using them as a frame in a movie.
Omzetten van splines naar buigstralen.
Voor de koepeldelen is een extra tekeningenset gegenereerd met alleen de dimensionering van de buigstralen van de kromming. Het engineeringsmodel levert geen buigstralen, maar zogenaamde splines. Met dit type organische vormgeving is dit haast onvermijdelijk en voor sommige uitvoeringsmethodes is dat geen probleem zoals het gips, maar voor de baffles moeten de splines omgezet worden naar een radius voor een buigmachine. De uitdaging van het omzetten van splines naar opeenvolgende buigstralen is dat als de ene radius overgaat in de andere er geen knik zichtbaar mag zijn en dat er geen te grote afwijking t.o.v. de originele spline mag zijn. Het script dat hier voor zorgt is iteratief, het genereert eerst een cirkeldeel op basis van de begin- en eindtangenten en meet vervolgens de maximale afwijking t.o.v. het origineel, als dit groter is dan afgesproken, dan wordt het origineel in tweeën gesplitst en begint het script opnieuw. In theorie zou het origineel in teveel en te kleine buigstralen opgesplitst kunnen worden, maar in dit geval bleek het meest extreme geval met maximaal vier gebogen delen te benaderen met een maximale afwijking van 1 millimeter (!).
Converting splines to bending radii.
For the dome segments an extra drawing set was generated with only the dimensions of the bending radii of the curved segment. The engineering model mentioned earlier does not provide radii, but splines. With this type of organic shapes this is almost unavoidable and in a number of cases it is not an issue, like in the case of using gypsum. However, baffles are bent and bending is done using a single radius. Curved segments based on splines need to be approximated by successive radii and the challenge here is that where two arc segments connect, they need to have the same tangent at that spot to avoid kinks. There is an iterative script that takes of this, first, it generates an arc segment based on start and ending tangents and then measures the maximum deviation to the original, if this is more than agreed upon, the script cuts the line segment in half and starts again. In theory this could result in very many, very tiny arc segments, but the most extremely curved baffle can be approximated by only 4 radii with a maximum deviation of only 1 millimeter (!).